Asus Expert Book, 11.6 Inch HD Convertible Touch Screen, Celeron N4500, 4GB RAM, 64GB eMMC, Windows 10 Pro National Academic with 3 YEAR WARRANTY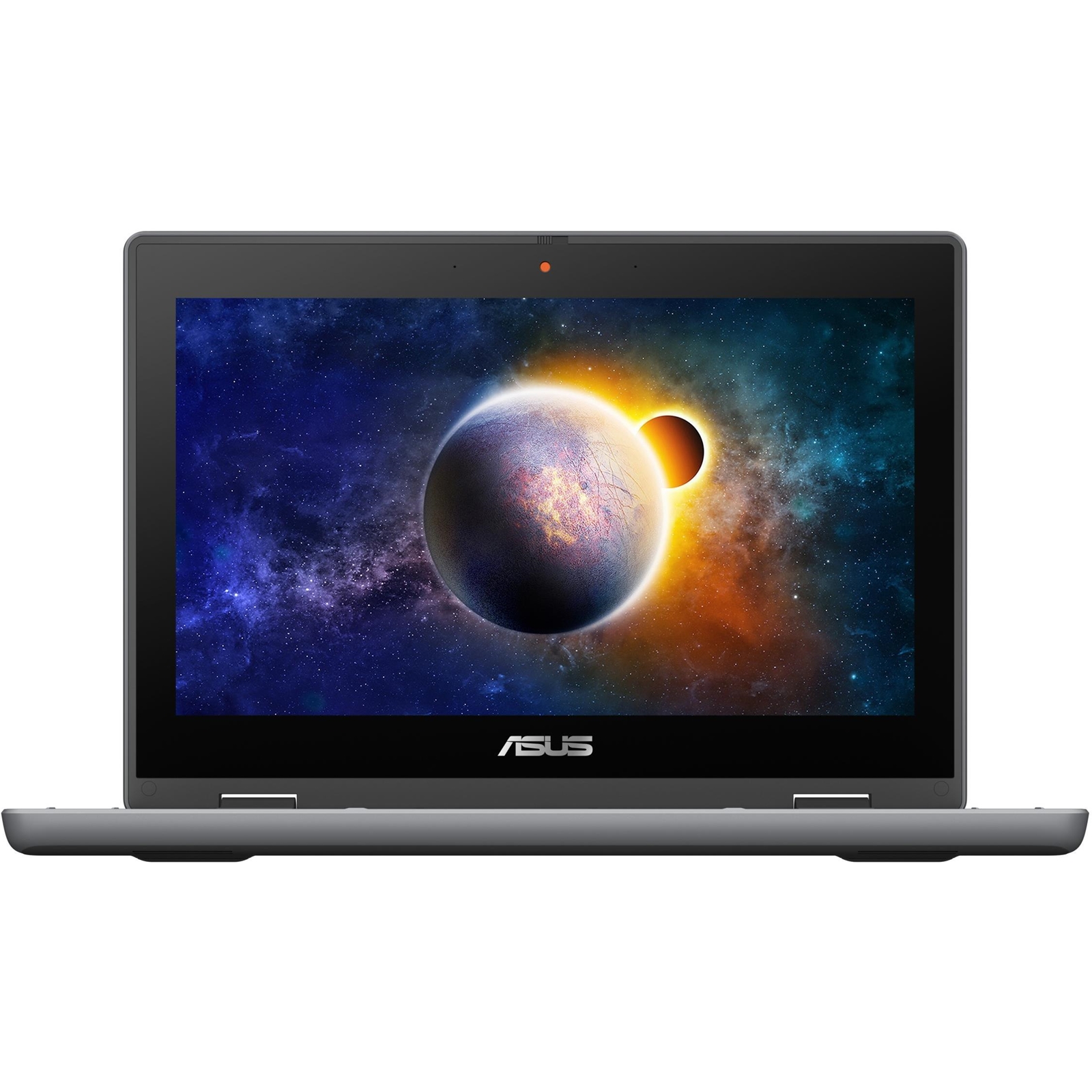 £190including VAT
5 available for next day delivery to you or our store.
£6.99 next day delivery to you.
Code: LAASU-BP0123RA, EAN: 4711081106517
Overview
Processor: Intel Celeron
Screen Size: 11.6 Inch
Operating System: Windows 10 Pro Academic
Touch Screen: Yes
Memory: 4GB
Hard Drive: 64GB eMMC
Full Specification
***STLYUS NOT INCLUDED***
Strong, flippable power for learning
ASUS BR1100F is the best learning companion for students of all ages, with a tough, innovative design that's made to last.
As well as a versatile touchscreen display and stylus1, there's also a 360° hinge and a world-facing camera.
It's packed with clever protective features, including an all-round rubber bumper, spill-resistant keyboard and ultra tough hinge.
BR1100F also supports up to WiFi 62 and 4G for fast connectivity, and has AI-powered noise-cancelling technology for high-quality remote learning and conferencing, and a modular design makes it easy to service, BR1100F is ready for anything.
Ready for action
Classrooms can be tough, but ASUS BR1100F is tougher! Built to surpass demanding US military-grade MIL-STD-810H durability standards, it's also torture-tested to pass stringent ASUS quality tests.
It can withstand occasional drops of up to 120 cm - more than standard desk height - and the hinge and I/O ports are fully tested to endure the stresses and strains of everyday use.
All four exterior edges and corners are protected by a tough rubber bumper, which reduces the impact of physical shocks to ensure critical components are always safe and sound.
Spill-resistant keyboard
The spill-resistant keyboard can cope with liquid spills of up to 330 cc without harm, so minor splashes on the desk or dinner table can be easily drained, cleaned and dried.
360° of versatility
With its 360°, any-position hinge, ASUS BR1100F is able to turn learning on its head. Rotate through the full 360° to take a test in tablet mode. Study or mark papers in tent mode.
Flip into laptop mode to do a report assignment. It's as flexible as your imagination!
Handy built-in stylus
ASUS BR1100F features a precision stylus with garage that helps you get every detail just right when you're drawing, taking notes or marking up documents.
The built-in stylus holder means it's always to hand, and there's less chance of losing it. It's also quick to charge, with a 15-second top-up providing enough juice for 45 minutes' use - so you'll never be left waiting.
Easy maintenance for uninterrupted learning.
For easy on-site servicing and reduced downtime, ASUS BR1100F has a modular design that allows key components - such as the keyboard, battery, thermal module and I/O ports - to be replaced in minutes using simple tools.
As well, the underside is secured attached using captive screws, eliminating worries about losing these little parts during repairs.
Noise cancellation
To provide exceptional remote learning and video-conferencing experiences, ASUS BR1100F features innovative ASUS AI noise-cancelling technology that employs machine learning in order to isolate unwanted noise from human speech.
Try the demo to experience the amazing difference that ASUS AI noise-cancelling technology can make.
Faster WiFi
ASUS BR1100F offers the latest WiFi 6 technology to deliver ultrafast and stable speeds for online learning and super-smooth video chats.
All-day learning
With up to 10 hours battery life on a single charge, ASUS BR1100F will last for a full day of classes and more - empowering students to enjoy both uninterrupted learning and relaxation.
Antibacterial protection for all
The surface of any laptop harbours thousands of potentially harmful bacteria. To keep your ASUS BR1100F hygienic, the keyboard, touchpad, and palm rest are all protected with ASUS BacGuard antibacterial treatment.
This has been scientifically shown by the internationally-recognised ISO 22196 standard to inhibit the growth of bacteria by in excess of 99% over a 24-hour period.
BacGuard is also made to withstand alcohol-based cleaning products, empowering you to keep the surface of your laptop clean, sanitary and virtually free from the spread of harmful bacteria.
SPECIFICATIONSSTORAGE
RAM Size:
4 GB
SSD Capacity:
64 GB
Storage Type:
eMMC
PRCOESSOR INFORMATION
Processor:
Intel Celeron N
Processor Speed:
1.1 GHz
OPERATING SYSTEM
Operating System:
Windows 10 ProScreen
Screen Size:
11.6 in
Maximum Resolution:
1366 x 768
Touch Screen:
No
OPTICAL DRIVE
Optical drive:
No DVD Drive
GRAPHICS
Graphics Processing Type:
Integrated/On-Board Graphics
GPU:
Intel UHD Graphics
CONNECTIVITY
Connectivity:
HDMI, USB 3.2Colour
Colour:
Grey
FEATURES
Features:
Intel Celeron N4500 / 1.1 GHz Max Turbo Speed Upto 2.8GHz Processor, 11.6" Touchscreen Convertible Display (1366 x 768) Resolution
Most Suitable For:
Casual Computing
Backlit Keyboard:
No
WARRANTY
Manufacturer Warranty:
3 years
Stay a step ahead with the latest AI-powered apps:​
Create inspiring documents with smart assistance features in Word, Excel & PowerPoint​.
Save up to 500,000 photos & files with 1 TB of OneDrive cloud storage​.
Enjoy an ad-free email and calendar experience with Outlook.
Computer FX can set up and manage your 365 account for minimal hassle
Use Microsoft 365 on your desktop, laptop, tablet and phone.
Microsoft 365 is compatible with Windows, macOS, iOS and Android.
Microsoft 365 Family
Perfect for up to six people
Up to 6 TB of cloud storage, that's 1 TB per person
Premium safety features in mobile app
£79/year
Microsoft 365 Personal
£59/year