Gigabyte G5 MD Gaming Laptop, 15.6 Inch Full HD 144Hz 1080p Screen, Intel Core i5 11400H 11th Gen, 4GB RTX 3050Ti, 16GB RAM DDR4, 512GB SSD, Windows 11 Home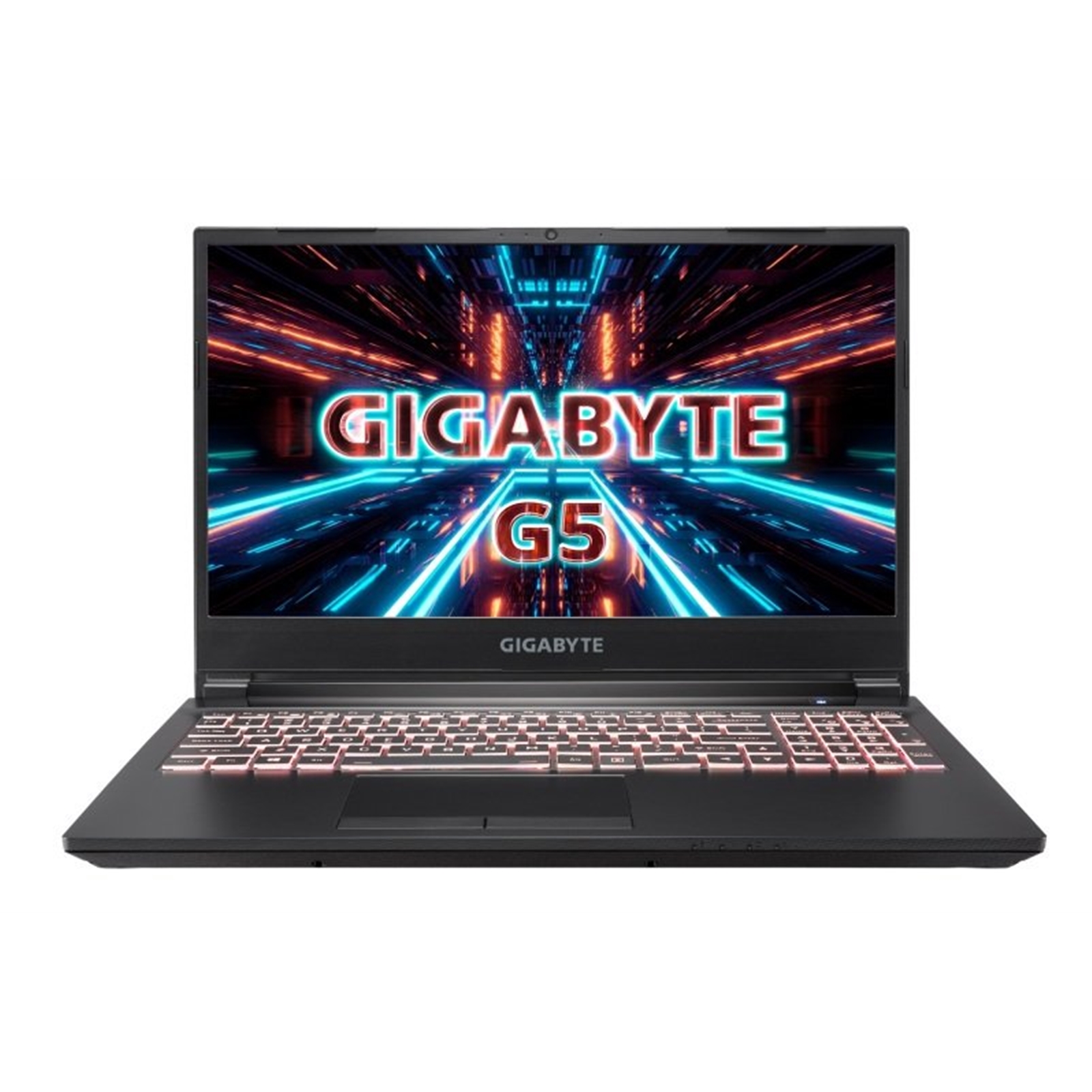 £990including VAT
5 in stock and available for next day delivery.
£6.99 next day delivery to you.
Collect from our shop next day.
To order, give us a call on 01653 694500. We can deliver it direct to you or you can collect at our shop.
Item code: LAGIG-51UK123SO
Overview
Processor: Intel i5
Screen Size: 15.6 Inch
Operating System: Windows 11 Home
Touch Screen: No
Memory: 16GB
Hard Drive: 512GB SSD
Full Specification
YOUR VERY OWN PORTABLE BATTLESTATION
The Gigabyte G5 Gaming laptop has been crafted for both work and play and entertainment which contains an Intel 10th Gen Core i5 processor and powerful GeForce RTX 3050 Ti laptop graphics – all within a 15.6" screen, to be able to undertake any task.
Play all of your favourite titles on a stunningly-fast 144Hz, FHD display that will allow you to immerse yourself into any environment.
The Gigabyte G5 provides 512GB SSD storage for all your files and games. Moreover, users can experience up to 3 screen display output, built-in SD card slot, 6TB storage capacity and next-gen Wi-Fi technology; with a tool for every task.
GEFORCE RTX 30 SERIES LAPTOP GPUS
The Gigabyte G5 Gaming laptop is powered by Ampere: NVIDIA's 2nd gen RTX architecture, NVIDIA GeForce RTX 30 Series Laptop GPUs supports real-time ray tracing, artificial intelligence, and programmable shading, bringing gamers a whole new gaming/working experience.
11TH GEN INTEL CORE PROCESSOR
Experience the power of the G5 Gaming laptop which comes equipped with the industry-leading 11th Generation Intel Core i5 processor, which has a maximum turbo frequency of 4.5GHz. Users can run multiple applications without compromise.
The G5 offers fast multimedia processing and the smoothest gaming experience.
144HZ FHD GAMING DISPLAY
The G5 Gaming laptop comes equipped with 144Hz gaming display which covers 72% NTSC colour gamut that can bring out more vivid gaming colours.
The high refresh rate can take away motion-blur and leave a perfectly smooth visual experience. Clear sight is the key to victory!
DUAL GIGANTIC FANS
Two 5V fans with 47-fan blades and 53-fan blades that continuously pump out internal hot air.
4 HEATPIPES
The internal chassis consists of 4 total heat-pipes, with 2 of these heat-pipes dedicated to dissipating the heat generated from the CPU and GPU.
3 VENTS
3 exhausts vents and intakes coming from the large under area of the chassis, effectively cooling the chassis with proper airflow.
CINEMA-GRADE SOUND
The new G5 series adapts the DTS: X Ultra audio technology for the first time and letting you enjoy the full depth of high-fidelity audio.
Virtual 7.1-channel surround sound innovation that provides outstanding sound experience and performance. From gaming, seeing movies to conference calls, the DTS:X Ultra brings true 3D surround effect and the voice communication is clearer than ever with Two-Way AI Noise Cancelation that removes noise from incoming and outgoing audio.
WI-FI 6 TECHNOLOGY WITHOUT LAG
The next-generation Wi-Fi 6 technology that comes with dual band, dual channel feature. Plus Bluetooth 5.2, G5 provides blazing speed performance whether indoors or outdoors.
SUPPORT 3 SLOTS OF STORAGE SYSTEM
he G5 gaming laptop comes with two M.2 slots and one 2.5 inch swappable bay, 3 slots offering a total of up to 6TB of storage space.
Not to mention the one high-speed PCIe 4.0 x4 SSD slot supports unbelievable read speed of up to 7000 MB/s, such storage performance is ready to take on beastly games with large sized files and all the other large media files with pure ease.
GAMING CENTER
Using the all-new GAMING CENTER, gamers can easily set the game performance, macro keys and backlit key effects. Create custom profiles for each game to maximise your true potential.
EXTREMELY THIN BEZEL
The G5 Gaming laptop's chassis is coated with a discrete matte black finish, designed with function in mind and optimally packed to achieve a weight of just 5.51 lbs.
The G5 packs such power, yet it is so portable. The G5 gaming laptop is equipped with a large 15.6" display with the ultra-thin bezel design, which can reduce the chassis size, resulting in a body that is not much larger than a regular 15" model.
Take one of the most powerful laptops with you without sacrificing visual sensation and mobility.
UP YOUR CREATIVE GAME
Take your creative projects to a new level with GeForce RTX 30 Series GPUs. Delivering AI-acceleration in top creative apps.
Backed by the NVIDIA Studio platform of dedicated drivers and exclusive tools. And built to perform in record time.
Whether you're rendering complex 3D scenes, editing 8K video, or livestreaming with the best encoding and image quality, GeForce RTX GPUs give you the performance to create your best.
VICTORY MEASURED IN MILLISECONDS
NVIDIA Reflex delivers the ultimate competitive advantage. The lowest latency. The best responsiveness. Powered by GeForce RTX 30 Series GPUs and NVIDIA® G-SYNC monitors.
Acquire targets faster, react quicker, and increase aim precision through a revolutionary suite of technologies built to optimise and measure system latency for competitive games
SPECIFICATIONSDisplay
Screen Size15.6"
Screen TypeIPS-Level, Anti-Glare
TouchscreenNo
Resolution1920x1080 (Full HD)
Refresh Rate144Hz
NVIDIA G-Sync TechnologyNo
AMD FreeSync TechnologyNo
Processor
CPU TypeIntel Core i5 11400H
CPU Cores6 Core
CPU Threads12
CPU Speed2.7 GHz
CPU Boost4.5 GHz
Unlocked/Overclockable CPUNo
RAM Memory
Memory16GB (2x8GB)
Memory TypeDDR4 SO-DIMM
Memory SpeedDDR4 - 3200
Maximum Memory Supported64GB (2x32GB)
Graphics
Graphics ChipsetNVIDIA GeForce RTX 3050 Ti Laptop GPU
Graphics Memory4GB
Graphics Memory TypeGDDR6
GPU Cores/Streams/Execution Units2560
Graphics Core Clock
Graphics Boost Clock1500 MHz
Graphics Memory Clock
Graphics Memory Bus128 Bit
Maximum Graphics Power75 W
Multi-GPU NVIDIA SLiNo
VR ReadyYes
NVIDIA Max-Q DesignNo
NVIDIA 3rd Gen Max-Q TechnologiesYes
Real-Time Ray TracingYes
Storage Drives
HDD CapacityN/A
SSD Capacity512 GB
Storage Slots & Bays:
1 x 2.5" Internal SATA Bay - AVAILABLE
1 x M.2, 22-80, PCIe - OCCUPIED
1 x M.2, 22-80, PCIe/SATA - AVAILABLE
Other
Optical DriveN/A
Card ReaderYes
BluetoothYes
WebcamYes
Built-in microphoneYes
Keyboard Type/LanguageChiclet / UK / RGB LED
BatteryLi Polymer 48.96Wh
Security Features:
Firmware TPM
Supports Intel Platform Trust Technology (PTT)
ColourBlack
Operating SystemWindows 10 Home (64 bit)
Accessories Included in Box1 x 180W AC PSU Power Adapter
Notebook Dimensions361 x 27.9 x 258 mm (WxHxD)
Weight (Inc. Battery)2.2 kg
I/O
1 x DC-In Jack
1 x HDMI 2.0
1 x Headphone / Mic
1 x Mic-In
1 x Mini DisplayPort 1.4
1 x RJ-45
1 x SD Card Reader
1 x USB 2.0
1 x USB 3.2 Gen1 Type-A
1 x USB 3.2 Gen2 Type-A
1 x USB 3.2 Gen2 Type-C
1 x USB 3.2 Gen2 Type-C/ DisplayPort/G-Sync
1 x WiFi 802.11ax/BT5.0 Module
Warranty 2 year return to repair
Stay a step ahead with the latest AI-powered apps:​
Create inspiring documents with smart assistance features in Word, Excel & PowerPoint​.
Save up to 500,000 photos & files with 1 TB of OneDrive cloud storage​.
Enjoy an ad-free email and calendar experience with Outlook.
Computer FX can set up and manage your 365 account for minimal hassle
Use Microsoft 365 on your desktop, laptop, tablet and phone.
Microsoft 365 is compatible with Windows, macOS, iOS and Android.
Microsoft 365 Family
Perfect for up to six people
Up to 6 TB of cloud storage, that's 1 TB per person
Premium safety features in mobile app
£79/year
Microsoft 365 Personal
£59/year